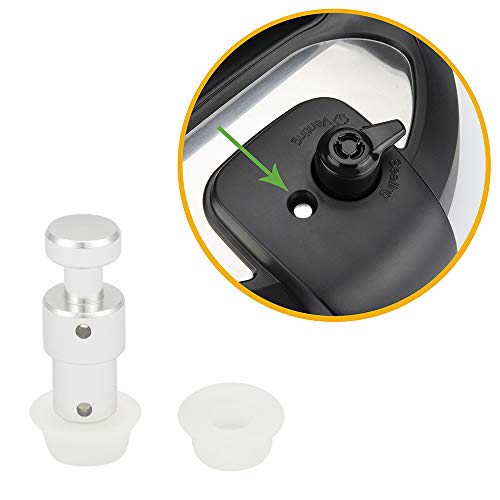 Original Float Valve for Instant Pot Duo 3, 5, 6 Qt, Duo Plus 3, 6, 8 Qt, Ultra 3, 6, 8 Qt, LUX 3 Qt by WISH
as of September 28, 2023 10:46 pm
Features
Designed for Duo 3, 5, 6 Quart, Duo Plus 3, 6, 8 Quart, Ultra 3, 6, 8 Quart, Smart 6 Quart, Lux 3 Quart.
Same as original float valve to build and maintain pressure. NOT Fits Lux 5, 6, 8 Qt.
Easy to install and relocate for cleaning.
Float valves are model specific, check your pot model before purchase.
Lifetime replacement warranty.
(Set of 5) Replacement Floater Valve and Sealer Ring for Electric Pressure Cooker, Pressure Cookers Parts,Faberware Steam Valve
as of September 28, 2023 10:46 pm
Features
✽Floater and Sealing Ring is are essential for pressure cooker to work Under normal situation, floater inserts into the lid from outside to inside. The sealer locks the floater from inside, keeping the floater in place.
✽The Sealing Ring is often washed off, leaving the floater loose and the pressure cooker unusable,This floater and Sealing Ring set fits the lids of almost all pressure cooker universally.
✽Float valve and Silicon Ring Set for Instant Pot model DUO Mini, DUO60, DUO80, DUO Plus Mini, DUO Plus 60, DUO Plus 80, Ultra Mini, Ultra 60, Ultra 80, LUX Mini, and Smart WiFi
✽Made from durable silicone compound that's dishwasher safe, BPA free and food-safe; Made exclusively for use in the Pressure Cooker.
✽Please check the pictures to see the sizes of the set before buying. Package Content: 5 floater and 5 sealer.
Pressure Cooker Sealing Rings 100% Food Safe Silicone Fits 5 or 6 Quart Models and Float Valve for Instant Pot Model IP-CSG60, IP-CSG50, IP-LUX60 (Set- of 4)
as of September 28, 2023 10:46 pm
Features
1. The sealer is often washed off, leaving the floater loose and the pressure cooker unusable, Floater and sealer are part of the lid of Power Pressure Cooker, and are essential for pressure cooker to work.
2. Floater and sealer are part of the lid of Power Pressure Cooker, and are essential for pressure cooker to work ! Sealing Ring Replace every 18-24 months or when deformation is present in your old sealing ring . Made from 100% Safe Food-Grade durable Silicone ,Odor Resistant.
3. Floater and sealer set fits many models of the Power Pressure Cookers including but not limiting to XL (6 & 8 quarts), YBD60-100, PPC780, PPC770, and PPC790.
4. Silicone Sealing Ring Inside diameter 8.7", outside diameter 9.5". Fits models 6qt PPCXL Smart-60 (Smart), IP-CSG60 (CSG60) and IP-CSG50 (CSG50),PPC770, PPC770-1, PCXL-PRO6, and PC-TRI6. Not recommended for other brands of pressure cookers - Made exclusively for use in the IP.
5. Package Content: Set of 4 (1x Floater and 2x Sealer + 1x Sealing Ring Silicone 100%Safe Food-Grade)