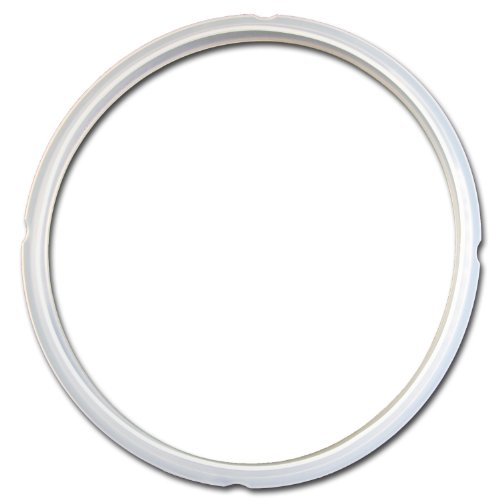 Genuine Instant Pot Sealing Ring Clear, 5 or 6 Quart
3 new from $7.95
4 used from $7.02
Free shipping
as of September 28, 2023 10:46 pm
Features
Integral part of the Instant Pot safety mechanisms. This authentic Instant Pot sealing ring is designed, engineered, and built with the optimal material to achieve the highest safety standards
Manufactured from the highest quality food safe Silicone, passed UL, FDA, and LFGB tests for safety, including food safety
Genuine Instant Pot Multi-Use Programmable Pressure Cooker sealing ring designed for the 5 or 6 Quart, IP-DUO50, IP-DUO60, IP-LUX50, IP-LUX60, IP-LUX60V3, Smart-60, Ultra-6, IP-CSG60 and IP-CSG50
BPA free & Dishwasher safe
The use of third party unapproved sealing rings may cause damage, safety risk and void the Instant Pot warranty
Condensation Collector Cup Replacement for Instant Pot DUO, ULTRA, LUX, 5, 6, 8 Quart All Series Ultra 60, DUO60, DUO89, and LUX80 by Zonefly
as of September 28, 2023 10:46 pm
Features
COMPATIBLE WITH - Replacement condensation collector for Instant pot 5 quart, 6 quart and 8 quart, Ultra 60, DUO60, DUO89, and LUX80, CAN NOT SUPPORT 3QUART!
EASY TO USE - Easy to install and remove for cleaning, Can be rinsed with water. Notice: CHECK YOUR SIZE AND SHAPE BEFORE PURCHASE
SUGGEST - Water collector easy to breed bacteria, suggest to dispose your old water collector after 6-month use.
SAFETY - Food grade PP plastic, BPA free, FDA approved. Designed to collect liquid that may be released from the pot
LIFETIME WARRANTY - If for any reason you're not SATISFIED, full refund or free replacement is available. Any questions tell us and we will reply you within 12 hours.
Original Float Valve for Instant Pot Duo 3, 5, 6 Qt, Duo Plus 3, 6, 8 Qt, Ultra 3, 6, 8 Qt, LUX 3 Qt by WISH
as of September 28, 2023 10:46 pm
Features
Designed for Duo 3, 5, 6 Quart, Duo Plus 3, 6, 8 Quart, Ultra 3, 6, 8 Quart, Smart 6 Quart, Lux 3 Quart.
Same as original float valve to build and maintain pressure. NOT Fits Lux 5, 6, 8 Qt.
Easy to install and relocate for cleaning.
Float valves are model specific, check your pot model before purchase.
Lifetime replacement warranty.