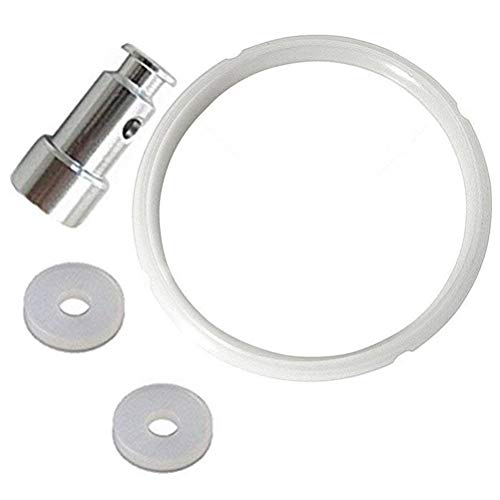 Pressure Cooker Sealing Rings 100% Food Safe Silicone Fits 5 or 6 Quart Models and Float Valve for Instant Pot Model IP-CSG60, IP-CSG50, IP-LUX60 (Set- of 4)
as of September 28, 2023 10:46 pm
Features
1. The sealer is often washed off, leaving the floater loose and the pressure cooker unusable, Floater and sealer are part of the lid of Power Pressure Cooker, and are essential for pressure cooker to work.
2. Floater and sealer are part of the lid of Power Pressure Cooker, and are essential for pressure cooker to work ! Sealing Ring Replace every 18-24 months or when deformation is present in your old sealing ring . Made from 100% Safe Food-Grade durable Silicone ,Odor Resistant.
3. Floater and sealer set fits many models of the Power Pressure Cookers including but not limiting to XL (6 & 8 quarts), YBD60-100, PPC780, PPC770, and PPC790.
4. Silicone Sealing Ring Inside diameter 8.7", outside diameter 9.5". Fits models 6qt PPCXL Smart-60 (Smart), IP-CSG60 (CSG60) and IP-CSG50 (CSG50),PPC770, PPC770-1, PCXL-PRO6, and PC-TRI6. Not recommended for other brands of pressure cookers - Made exclusively for use in the IP.
5. Package Content: Set of 4 (1x Floater and 2x Sealer + 1x Sealing Ring Silicone 100%Safe Food-Grade)
Genuine Instant Pot Sealing Ring Clear, 5 or 6 Quart
6 used from $7.00
Free shipping
as of September 28, 2023 10:46 pm
Features
Integral part of the Instant Pot safety mechanisms. This authentic Instant Pot sealing ring is designed, engineered, and built with the optimal material to achieve the highest safety standards
Manufactured from the highest quality food safe Silicone, passed UL, FDA, and LFGB tests for safety, including food safety
Genuine Instant Pot Multi-Use Programmable Pressure Cooker sealing ring designed for the 5 or 6 Quart, IP-DUO50, IP-DUO60, IP-LUX50, IP-LUX60, IP-LUX60V3, Smart-60, Ultra-6, IP-CSG60 and IP-CSG50
BPA free & Dishwasher safe
The use of third party unapproved sealing rings may cause damage, safety risk and void the Instant Pot warranty
Silicone Sealing Ring Color Coded Sweet Savory Rings for 6 qt 5 Quart Instant Pot Models Rubber Gasket Pressure Cooker Replacement Parts (3 Pack - Red/Green/Blue)
out of stock
as of September 28, 2023 10:46 pm
Features
it DOES NOT fit 8 QT model! Perfect Replacing Silicone Sealing Ring Made from 100% Safe Food-Grade durable Silicone BPA free,Odor Resistant, food-safe, wash them easily in your dishwasher
6 Quart - of 3 Colors: Red & Green and Blue, easily distinguish between 3 silicone rings so that you can differentiate between sweet and savory Not confused anymore, No food odor mixed anymore!
Perfect Replacing Silicone Sealing Ring for the 5 Quart and 6 Quart, Fit for Model: IP-DUO60, IP-DUO50, Smart-60, IP-LUX60, IP-LUX50, IP-CSG60 IP-CSG50. Made exclusively for Instant Pot. Not recommended for use with other pressure cooker brands.
Pressure Cooker Replacement Parts, Silicone Sealing Ring Replace every 18-24 months or when deformation is present in your old Sealing Ring
Silicone Sealing Ring 100% Money Back guarantee: if you're not satisfied, let us know and we'll provide you with a full refund.